The 9th & 9th Street Festival is organized in partnership with the East Liberty Park Community Organization. This is our general procedure and has been updated as of 9/10/19, but please note that the following items are subject to change. We will notify exhibitors of any changes.
Event details
Saturday, September 14 | 10:00am – 6:00pm
900 South between Lake Street and Lincoln Street (new for 2019!)
900 East between 800 South and Belmont (940 S)
Check-in and load-in process
*New for 2019
There is still road construction on 900 South from Lincoln to 1300 East. It is best to avoid that part of 900 South.
For check-in and load-in, please enter 900 East from the north off of 800 South as shown on the map below. Drive south until you see us.
We are trying out a new drive-through check-in process. You will be greeted at your vehicle, checked in, and given a map to your booth location.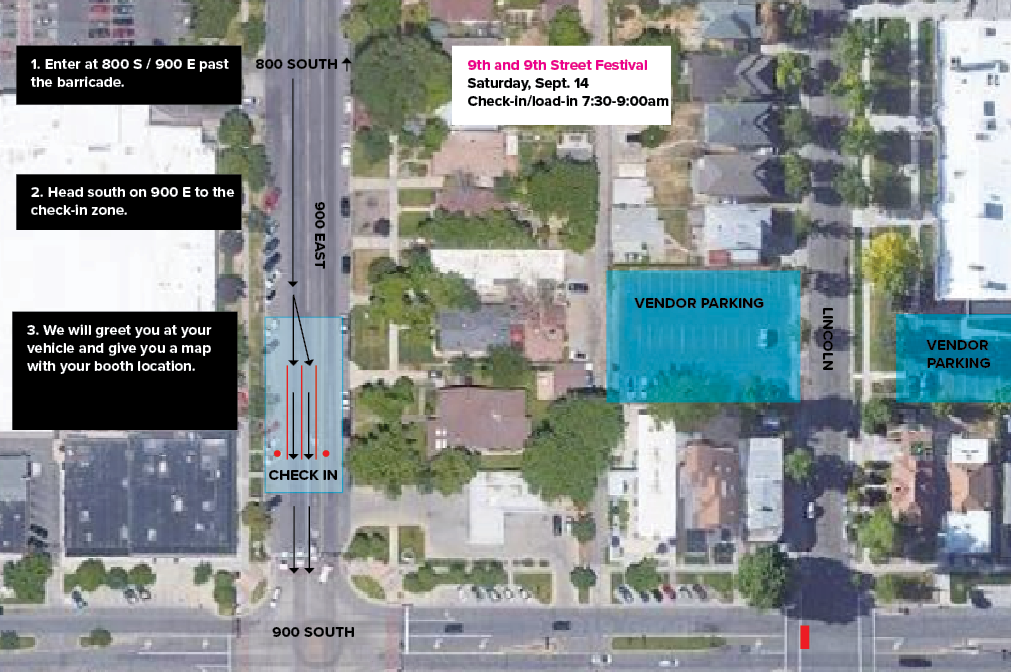 Check-in and Load-in: 7:30 AM – 9:00 AM
Set-up: 7:30 AM – 9:30 AM
* Vehicles must be removed from the street by 9:30 AM
Festival hours: 10:00 AM – 6:00 PM
Break-down: 6:00 PM – 7:00 PM
Tent requirements – Securing your tent
All tents must be secured with weights to withstand wind and wind gusts. Per fire department requirements, all tents and membrane structures must be properly secured in case of wind (40 mph basic wind speed and 90 mph 3-second gust). Securing of the structures is the responsibility of the owner/operator (refer to IBC 1609).
You can use a 5-gallon bucket filled with water or sand to get approximately 40 lbs of weight at the corner. Not the prettiest, but it will work. Google other options if you don't have commercially produced weights.
https://www.google.com/search?q=diy+canopy+weight
Special info for food vendors
Food Safety
Please be prepared to show your health permits from the Salt Lake Valley Health Department. You must meet their requirements as listed on this page: Temporary Event Food Permit.
Food trucks
Food trucks must have fire safety approval from the SLC Fire Department. Please be prepared to show proof for any fire inspections.
Food booths
For food vendors using a tent structure, if you are warming or heating up that food you are required to have the following:
Flame retardant certification must be provided for all temporary structures utilized for cooking or heating of food. California State Fire Marshal's flame retardant certification seal must be visibly displayed on the tent.
A portable fire extinguisher with a minimum 2A10BC and if there are grease-laden vapors present, a K type extinguisher is also required.
Vendor check-in and event information
Location
The Festival info booth and HQ will be on the NW corner of the intersection of 900 South and 900 East in Salt Lake City. We will be out front and obvious (10 ft south of the door). The Festival is open from 10 AM to 6:00 PM.
Instructions
Booth spaces are 10 x 10 unless otherwise arranged. No structures or equipment (tent, table, chairs, etc) are provided.
You will receive your booth location assignment on the morning of the event at Festival Check-In (location to be confirmed).
Set up begins officially at 7:30 AM but you need not arrive that early (see next line)
You MUST have your vehicles out of the event area by 9:30 AM. Plan to arrive early enough so you can remove your vehicle by 9:30 AM. No vehicles will be allowed into the festival area after 9:15 AM.
Tear down is from 6:00 to 7:00 PM. Do not break down before 6:00 PM
If you have special needs or requests regarding setup/teardown time requirement, vehicles etc, please email vendors@9thand9thstreetfestival.com before noon on Tuesday, September 10, 2019.
Available Restrooms
6 at Smiths
2 at Barbacoa
1 at The Tower Theatre
2 at Coffee Garden
1 at Dolcetti
4 portable restrooms at the west end of the festival by Lake.
Additional Notes for Load-In and Set-Up
It is not necessary to begin set up at 7:30 AM.  In fact, we encourage people to come at different times as check-in gets overwhelmed if everyone shows up at once. Schedule your set-up so that you will be able to move your car by 9:30.
Stopping and Parking: Since a majority of the road will already be closed off by 7 AM there will be space to stop to pick up your booth information within the festival area. Stop, pick up your booth information and head to your designated location. Unload your merchandise, begin set up, then move your vehicle to one of the vendor parking areas before 9:30AM. If you are alone, we've found the festival vendor community to be very supportive, ask your neighbor to watch your things while you park your vehicle.
You will likely have to maneuver around barricades to get into the area but they are there for everyone's safety.
There are 2 vendor parking areas near the event area.  They are shown in the image above. Please park a maximum of one vehicle in the vendor parking areas.  If you have a second vehicle, please park it in the far N and NW corner of the Smiths parking lot (Smiths is at the corner of 900 E and 800 S)
Weather cancellation/Refunds The event will happen rain or shine. We reserve the right to cancel in the case of dangerous weather.
If you chose to withdraw before August 20 a refund will be issued for your booth fee. If you chose to withdraw after August 20 we can not issue a refund.
Salt Lake City Sales Tax
If you are selling any items, you will be issued a temporary sales tax number specifically for the 9th and 9th Street Festival. You should plan to collect sales tax or include it in your prices.
More questions? Contact us via our Facebook Page.